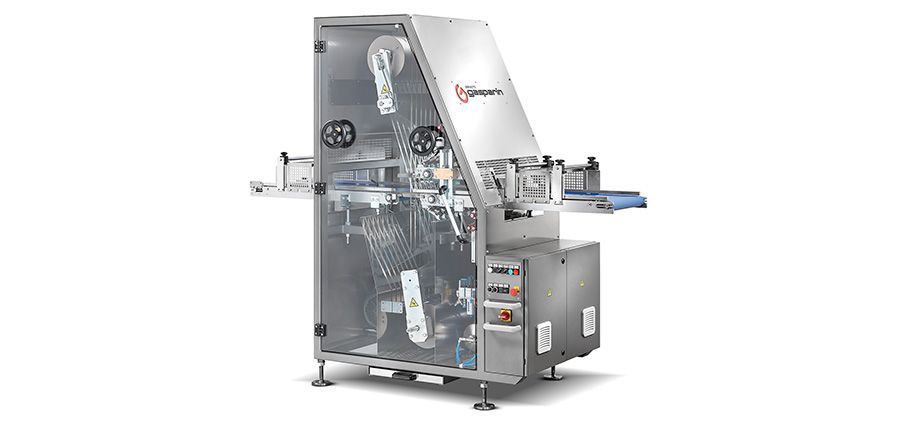 Continuous band blades slicer "entry level" for the bread loaves slicing medium speeds
Designed to be used in medium-capacity slicing applications, reaching a maximum production of 35/40 sliced loaves per minute (depending on the type of product to be cut and its dimensions). This version of slicer is made up of two balanced and rectified drums where the crossed blades slide, allowing the products to be cut into slices with a constant thickness and an excellent slicing result with a smooth and clean surface.
Maximum flexibility and versatility in its use, thanks to the possible adjustments and to the loading belt with a maximum width of 400mm which allows the slicing of the products with maximum dimensions of L:400xW:150xH:150 mm.
An innovative design, less angular in order to reduce the possible accumulation of crumbs inside the machine structure, also paying particular attention to the routine maintenance procedures required with ergonomic and practical solutions.
A model intended to satisfy the slicing requests for semi-industrial solutions, allowing to achieve higher productions than the traditional reciprocating blade slicers, but not yet at a purely industrial level, in compliance with the standards of reliability, cleaning and maintenance for easy use, but with maximum efficiency.
Cutter also available in a stainless-steel structure version and set-up for exit with conveyor belt or a fixed plan. For this version it is not possible to combine it in line with automatic cutting and packaging systems.
For more information and to know our complete range of machines, contact us at our email address 
This email address is being protected from spambots. You need JavaScript enabled to view it.

 or call +39 0445 560065.